ANNOUNCEMENTS:
Update: 14 April 2021
In order to facilitate both increased quality of the hunt and more opportunities for hunters, we have made the following changes for Spring Gobbler Season:
Change 1:
We have increased the number of passes in most Training Areas (TA) by 1 or 2, depending on TA size. This change will increase opportunity without decreasing the quality of the hunt. This resulted in a net increase of 41 hunting opportunities distributed throughout the base.
Change 2:
We have established a "Calling Pass" that will allow another licensed hunter(s) to accompany a hunter who has a valid hunting reservation for the next hunting day. The day of the hunt, the hunter and caller must remain together at all times. Callers must possess Quantico and State Hunting licenses and under no circumstances can they carry a weapon or shoot a turkey.
-No more than two calling passes will be issued for each hunter with a valid reservation.
-Youth-hunters, apprentice hunters, and hunters needing assistance cannot use a Calling Pass and must check-in to hunt.
-Calling Passes will not be issued on Sunday for Monday's hunt.
Procedure for Obtaining a Calling Pass
To obtain a "Calling Pass" the caller must go to the Check Station or call 703-784-5523 to reserve one. They will be required to give their name, the name of the hunter they will be calling for, and the TA where the hunter has a reservation. When you are finished for the day, you must call the game check station and let us know that you are clear of any and all training areas. We are working to incorporate something into iSportsman to alleviate that last step, but for now, you must call and let us know when you are finished.
When/if the caller and hunter change areas mid-hunting day, you must call the game check station at 703-784-5523 and speak with GCS personnel to update staff with the area where the caller and hunter are moving to.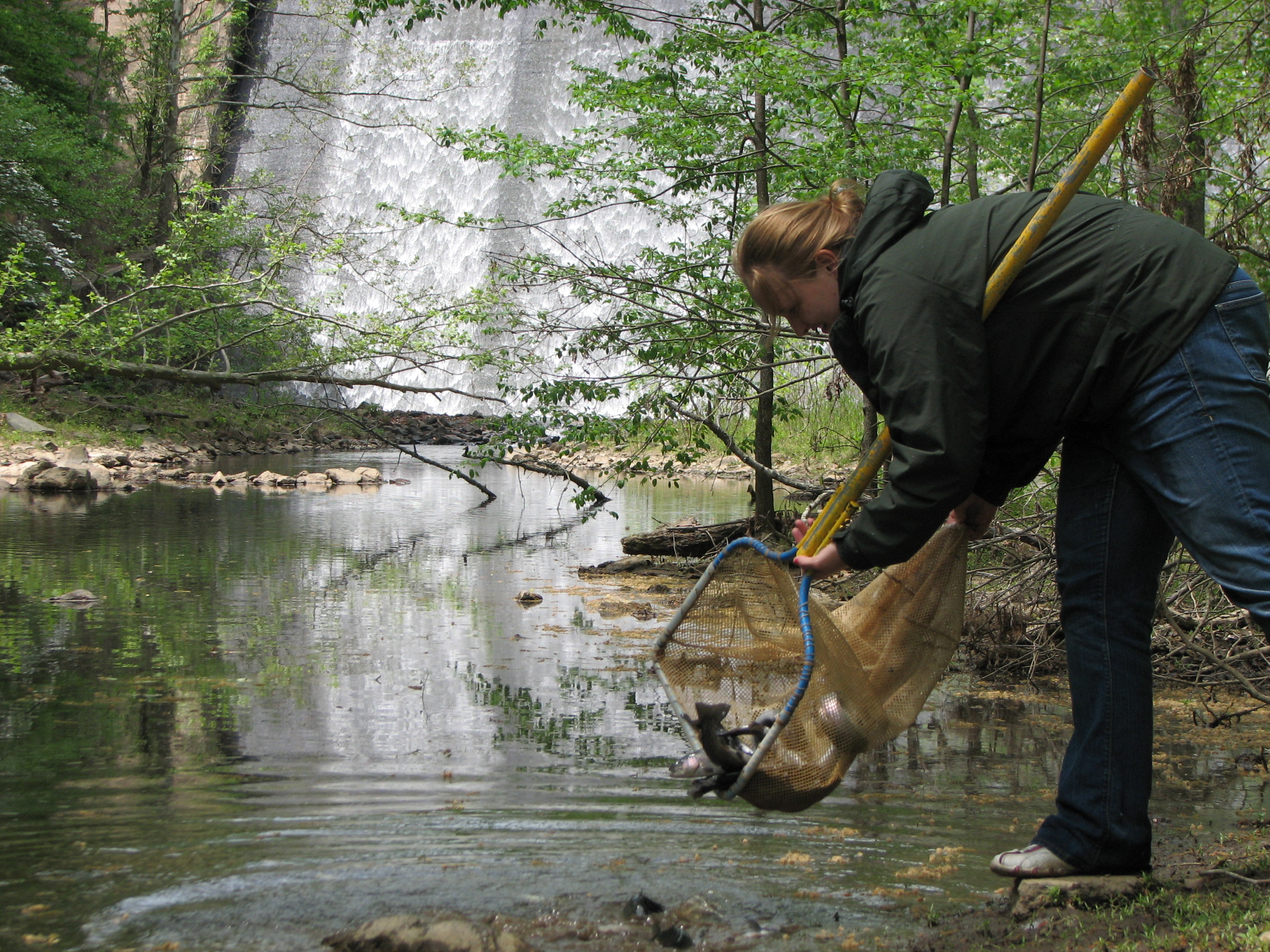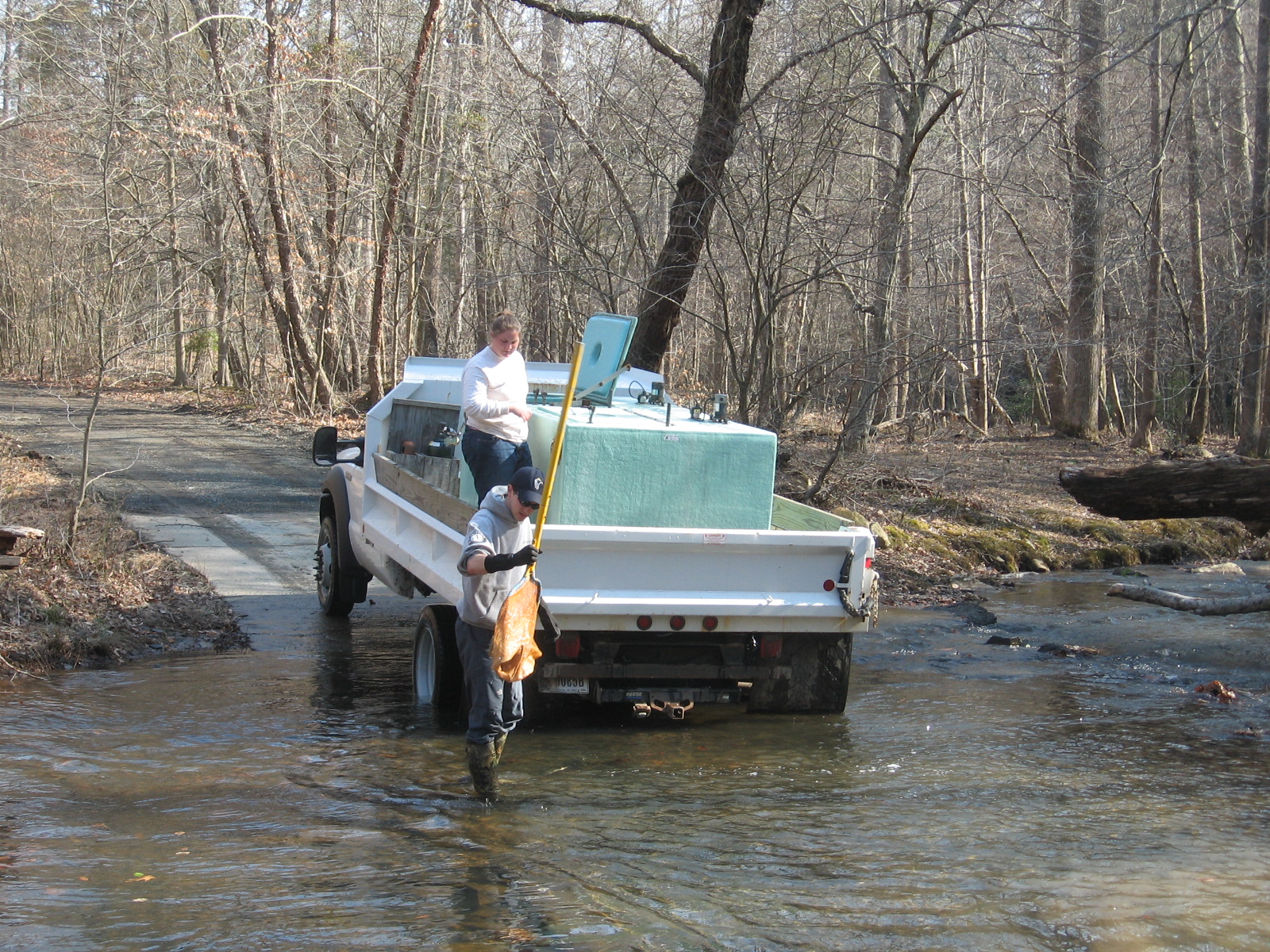 Trout Stocking – From late February to mid-late April, we will conduct our annual trout stocking. Over this 7-8 week period, we make 4 trips to the hatchery and return with a truckload of trout. We do not announce our stockings ahead of times other than Trout Heritage Day (April 3). We intend to publish our stockings the Monday following the stocking however, be sure to periodically check VDWR's Daily Trout Stocking Schedule or call 434-525-FISH (3474) in case we have yet to post the status of the previous stocking. For more info on Quantico Trout Stocking, click the Acitivies tab above, select fishing, then select either Chopawamsic Trout Waters and/or Secon Pool.

As mentioned above, Trout Heritage Day is April 3rd this year. On April 1st, an hour after sunset, we will close our trout waters. Friday, April 2nd, we will head to the hatchery to pick up trout. Trout waters will re-open on April 3rd at 0900. Click the link for more information on Trout Heritage Day. Also, visit the fishing tab above for more information on Trout Fishing on the Base, including maps and other information.

We conducted our first stocking Thursday, March 4th.
We conducted our second stocking Wednesday, March 17th.
We conducted our third stocking Friday, April 2nd, for Heritage Day.
We conducted our fourth and final stocking Wednesday, April 14th.
Update: 3 September 2020
Training Area Changes – Several training areas have changed. Be sure to check out the new hunting map to see these changes: Training Areas 6A and 14C are completely new areas; Training Areas 5B, 7A, 7B, 7C, 9B, 12A, 12B, Upshur and 14B have changed in size and boundaries). There are various boundary markers in place including fabric white engineering tape and signs that have been updated with reflective tape and hand markings.
Hunt Map Georeferenced – We have provided an online PDF version of our hunt map that is georeferenced. This means that when using a mapping app such as Avenza, you can see where you are located at all times to ensure you are in the correct training area. This is a great feature to have on your smart phone.
Waterfowl Hunting – We have worked extensively this summer to incorporate waterfowl hunting into the iSportsman checkin/checkout process. A detailed overview of waterfowl blind reservations and checking in/out can be found following this link: Waterfowl Blind Reservation and Checkin guide. In short, all reservations, check-ins/checkouts, and harvest reporting will occur through iSportsman. Reservations will be made on a first come, first served basis.
Waterfowl Game Check – Waterfowl hunters are no longer required to bring in their harvest for identification verification. Conservation Law Enforcement Officers will conduct random checks to ensure all waterfowl hunters are within their limits. Hunters will still be required to report their harvest via iSportsman.
VDGIF Name Change – Virginia Department of Game and Inland Fisheries (VDGIF) is now VDWR – Virginia Department of Wildlife Resources. While this does not directly affect us, we reference the VDWR name numerous times throughout our bulletin and our webpage.
Chronic Wasting Disease (CWD) Containment Area –Fauquier County in its entirety is located within VDWR's Disease Management Area (DMA) 2. Training Areas 9B, 13, 14A, 14B, 14C are within Fauquier County. Any deer harvested in these areas MUST follow VDWR's requirements on transporting deer. VDWR has authorized base hunters to transport deer to the Quantico Game Check Station for data collection purposes. Fauquier County deer must be immediately taken to a processor within DMA 1 or DMA 2 or processed (quartered) at the Game Check Station. We have a refrigerator unit available to hang deer for up to 72 hours for you to come process your deer. The spinal column and head MUST be left at the GCS so NREA Staff can properly dispose of them. In a joint effort with the state, we have and will continue to take samples to test for CWD. Through testing, CWD has not been confirmed present on the base. Please see our Guidelines for Hunting within DMA2 document for more information.
Covid-19 Measures – In order to protect both hunters and our staff, we are taking steps to reduce face-to-face interactions with the recreating public. Option 1: Visit the Quantico iSportsman page at https://quantico.isportsman.net to get answers to your questions. We have worked extensively on this webpage to provide important information to our hunters and anglers. Option 2: If you have reviewed our webpage and cannot find the answer to your question, you can call the Game Check Station at 703-784-5523/5329 for assistance. Our hours vary by season, so please see the webpage for this information. Option 3: Anyone entering the GCS is required to wear a mask. Option 4: We will answer all questions by using the sliding windows on the front of the Game Check Station.
Text Message Reminders – In response to many hunters' requests, iSportsman has enabled text messages reminders an hour prior to checkout for all hunters. We expect this will reduce the amount of hunters who forget to checkout nightly by providing this reminder.
Hunting/Fishing Regulations – We have published a draft version of our new Fish and Wildlife Procedural Manual. This is on our webpage https://quantico.isportsman.net/, under the Regulations tab.
Archery Qualifications – Archery Qualifications will be held Tuesdays and Thursdays at 12 noon starting Tuesday, September 8 through the end of October. If hunters are unable to attend on Tuesday or Thursday, contact the game check station to see if staffing allows for alternate arrangements. The archery safety brief within iSportsman has replaced the archery safety video formerly viewed at the Game Check Station. To complete the archery safety brief, click on "my safety briefs" within your iSportsman account. In order to maintain social distancing procedures, we have created a day-of check-in activity on iSportsman. Beginning at 4 am, 10 people can check-in to the Archery Qualification Activity to reserve a spot for the Qualification of that day. No more than 10 people can sign-up per day.
Update: 29 April 2020
Effective immediately, the Commissary gate and Onville gate hours have been reduced to 0500-2100. The Main gate and Ponderosa gate hours remain the same.

Fishing:
Due to the COVID-19 and attempts to protect sportsmen and staff from exposure, anglers will no longer be required to verify their base access credential with Quantico fish and wildlife staff prior to license purchase. However, ALL fisherman accessing the base are required to have a valid access credential and will be denied access if unable to present a valid access credential at access points. See the Base Access tab above for more information.

Update: 6 March 2020
2019 Fall Hunting Summary
We have uploaded our 2019 Fall Hunting Summary under the Harvest Info page. Be sure to check it out!

Chronic Wasting Disease Monitoring
As many may know, a case of Chronic Wasting Disease (CWD) was documented last fall in Culpeper County. While the installation is not within the Virginia Department of Wildlife Resources mandatory CWD testing area and CWD is not known to be present within the resident deer population, the GCS staff will take lymph nodes from older harvested deer and submit them for testing. For more information about CWD in deer, please visit VDWR: Chronic Wasting Disease.
Update: 21 January 2020

VDWR has released findings from part of their CWD study in Virginia. You can find the pdf version of this release HERE. The CWD sample results taken by Quantico NREA from a select number of deer are still pending and will be released by VDWR in the coming weeks. The CWD-positive deer from Fauquier County was harvested less than 2 miles outside of the DMA1 boundary; it is approximately 30 miles from the edge of the Disease Management Area to the Northwest corner of MCBQ. We remain outside of the mandatory CWD testing area and CWD is not known to be present within the resident deer population.
IMPORTANT INFORMATION - PLEASE READ
Quantico DOES NOT participate in the Early Archery Season in September that Stafford and Prince William Counties have enrolled in. Our archery season begins the first Saturday in October (October 5th). ​
Hunting Early Reservation times have changed:
​​Green: 1200
Blue: 1215
Brown: 1230
New Checkout TIme
Hunters: You must check out of your area by 1 hour after sunset.
​Sunday Scouting:
​Sunday scouting is permitted 0800-1600. You cannot reserve an area on Saturday to scout Sunday. Additionally, to make a reservation for Monday, you now make your reservation on Sunday instead of Saturday as with HTS.
Adding a participant/youth to your hunt:
​When checking in to hunt, if you click yes to add a participant, THEY MUST check themselves out at the end of the night (or you log in to their account and sign them out). They will not automatically check out when you check yourself out.
Season Dates and Bag Limits
Season dates and bag limits are posted in the Annual Hunting Bulletin.
The following policies are still in effect for the 2019-2020 season:
Antler Point Restriction: The antlered deer restriction continues into this hunting season. One of the 2 antlered deer permitted to be harvested by a hunter on base must have at least 3 antler points - 1 inch or longer - on one side.
Antlerless Deer Restriction The antlerless deer season bag limit of 1 per year continues into this hunting season. This restriction is intended to increase the deer population in response to hunter concerns about recent deer harvests.